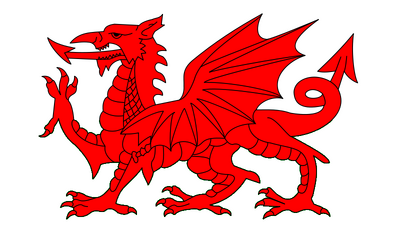 Welsh Dragon is a dragonoid cryptid reported from Powys, Wales - March 2001 - 7:30 PM.
A British biologist and a few colleagues were conducting some research in the area after being notified by a local of "something" strange that was witnessed a month earlier. As they stood at the edge of some woods by a quarry they suddenly looked upon an extraordinary entity. Measuring 3 ft. or so in length, it resembled a serpentine dragon with four short limbs, but its head was shaped very like that of a sea horse, and it was airborne...undulating and wriggling as it flew about 10 ft above the surface of the quarry in a wide circle.
They were unable to recall seeing any wings, but it had a long tail that ended in a pair of horizontal, whale like flukes. The entity was green in color and shimmered somewhat, but appeared solid, not translucent or ethereal. They watched it for 3-4 minutes, at a distance of approximately 50 ft, before it finally vanished into one of the numerous caves and large crevices pitting the quarry. The biologist had the distinct impression while watching this creature that it was deliberately seeking to keep them at bay, warning them off from approaching further into its territory.
Source: Reported by 'Strange' Magazine
NOTE: the Powys, Wales region has had it's share of UFO reports over the years.
Ad blocker interference detected!
Wikia is a free-to-use site that makes money from advertising. We have a modified experience for viewers using ad blockers

Wikia is not accessible if you've made further modifications. Remove the custom ad blocker rule(s) and the page will load as expected.