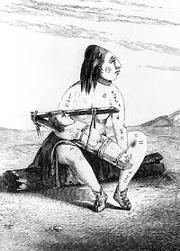 See-Atco or Seatco is a nocturnal cannibal giant from western North America (Coast and Cascade Ranges, Washington and Oregon; British Columbia, Canada.). Height, 7–8 feet. Covered with hair. Legs are unbendable. Spikes on its toes. Whistles like a bird. Has a keen sense of smell. Steals food. Can kill game animals by hypnotizing them. Abducts women and children. May cause people to go unconscious or make them crazy. Said to play tricks on people. Sometimes said to wear a loincloth.
Ad blocker interference detected!
Wikia is a free-to-use site that makes money from advertising. We have a modified experience for viewers using ad blockers

Wikia is not accessible if you've made further modifications. Remove the custom ad blocker rule(s) and the page will load as expected.