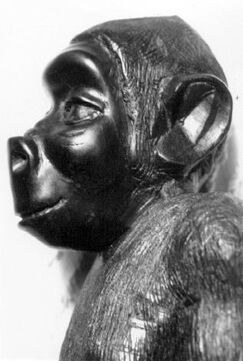 Séhité, Séite or Niankonkla is a small hominid, reported in rain forests from Seguéla to Abidjan, in Côte d'Ivoire. Long, reddish fur. Long, red head-hair. Large head. Said to be "luminous" (brightly colored?). Nocturnal. Upright gait but also climbs trees. Said to have bartered for goods with local tribes until 1935.
A red-furred "pygmy" was seen in the forest near Adiopo-Doumé, Côte d'Ivoire, in January 1947 by an African lab assistant working for zoologist André Ledoux. In the same year, a small, reddish primate was killed by the elephant hunter Dunckel in the forest between Guiglo and Toulépleu.
Possible explanations
Edit
An undiscovered population of short-statured forest-forager people related to the Mbenga Pygmies of Gabon and Cameroon.
The Western red colobus monkey (Piliocolobus badius) has bright-red to lightorange underparts and a body length of 2 feet (plus a 2 foot 6 inch tail). However, it is primarily arboreal and lacks thumbs, which prevents it from grasping objects.
Ad blocker interference detected!
Wikia is a free-to-use site that makes money from advertising. We have a modified experience for viewers using ad blockers

Wikia is not accessible if you've made further modifications. Remove the custom ad blocker rule(s) and the page will load as expected.