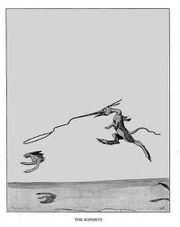 In the foothills of the Sierras, where the Digger pine grows, dwells one of the most peculiarly specialized animals to be found anywhere on the American continent. No one knows its life-history, even approximately, and many a discussion has been based upon the question as to whether the beast is born, hatched from eggs, or comes into existence spontaneously from some mountain cavern. The Digger Indians say that roperites are the spirits of early Spanish ranchers, and blood-curdling are the tales they tell of hapless creatures pursued by the beast, snared with its marvelous rope-like beak, and dragged to death through thorny chaparral.
No man or animal can hope to outrun it. It steps upon road-runners or kicks them out of the way, and no obstacle appears sufficient to stop its progress or even slacken its speed, as it seemingly half flies, half bounds across the rugged country which it inhabits. Its leathery skin is impervious to thorn and its flipper-legs uninjured by the sharpest rocks. According to A. B. Patterson, of Hot Springs, California, who saw the last roperite authentically reported, the animal has a large set of rattles on its tail, which it vibrates when in pursuit of game, thus producing a whirling sound like that of giant rattler. The effect of this upon an animal closely pursued may be imagined. Lumbermen operating in the region between Pitt River and the southern end of the Sierras are urgently requesting to make every effort to secure a living specimen of the roperite.
Ad blocker interference detected!
Wikia is a free-to-use site that makes money from advertising. We have a modified experience for viewers using ad blockers

Wikia is not accessible if you've made further modifications. Remove the custom ad blocker rule(s) and the page will load as expected.