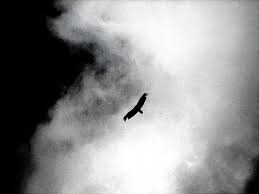 Pennsylvanian Black Birds is a strange flying cryptids reported from Tunkhannock, Pennsylvania - June 26 2002 - 9:30 PM.
Sighting
Edit
The primary witness had stepped out on his back porch when his attention was drawn to two huge black "birds" which were approaching from the north. His first impression was they were Herons, but soon realized that the color was wrong, and "they were huge, much larger than any bird I have ever seen." The two huge birds landed at the top of a very tall coniferous tree. The witness stated that the wingspan appeared to be wider than the branches, just below where they had landed. The body size was estimated to be about six feet from head to tail. The oddest feature was the shape of the wings, which according to the witness appeared to be bat-like. The tree where the "birds" landed seemed as though it would break from their weight. The witness yelled for others in the house to come outside to look. Another family member was able to see the huge black birds as they passed overhead, and headed for some woods. After checking the size of the branches where the birds had landed, the witness estimated that the wingspan would have been close to 12 feet or somewhat larger.
Source: Stan Gordon
Ad blocker interference detected!
Wikia is a free-to-use site that makes money from advertising. We have a modified experience for viewers using ad blockers

Wikia is not accessible if you've made further modifications. Remove the custom ad blocker rule(s) and the page will load as expected.