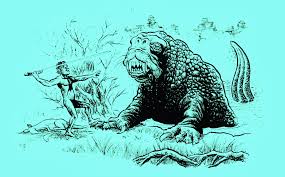 Mamba Mutu is a merbeing, reported from Lake Tanganyika and Lukuga River, Democratic Republic of the Congo. Half human, half fish. Sucks human blood and eats brains.
Possible explanations
Edit
Isolated population of the West African manatee (Trichechus senegalensis), though these animals are herbivorous.
An unknown species of giant otter with a flat skull, suggested by zoologist Carlos Bonet.
Ad blocker interference detected!
Wikia is a free-to-use site that makes money from advertising. We have a modified experience for viewers using ad blockers

Wikia is not accessible if you've made further modifications. Remove the custom ad blocker rule(s) and the page will load as expected.