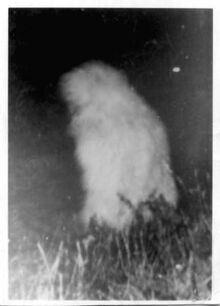 The Lake Worth Monster is a North American cryptid reported to live in and around Lake Worth, just outside of Fort Worth, Texas.
Numerous sightings in July 1969 led to the belief of a half-man, half-goat creature living in Lake Worth in Texas. Terry Deckard, a reporter, wrote an article about it in the newspaper, which made the front page. The headline read: "Fishy Man-Goat Terrifies Couples Parked at Lake Worth." The couples that reported the sightings described it as a half-man, half-goat, with fur and scales.
A man named Tommy Burson soon after reported the creature landed on his car after jumping out of a tree. An 18-inch scar on the side of his car was shown by Burson as proof. The police at this point decided to investigate. Up until then, they had laughed at any reports they received, thinking it was a hoax.
The following night, reports came in of the creature hurling a tire from a bluff at overlooking bystanders, which was reportedly witnessed by up to 10 individuals. The most well-known photograph (and perhaps the only one) of the creature belongs to a woman named Debrah Grabee, who received the photo from Allen Plaster, who took the picture in October 1969 near Lake Worth during the tire throwing incident.
In November 1999, television station KDFW aired a lengthy report about the Lake Worth Monster. Reporter Richard Ray interviewed locals including reporter Jim Marrs and purported eye witness Sallie Ann Clarke. Clarke's testimony was compelling but the report also stated that some high school students had admitted to authorities that they had pulled a prank on locals by wearing a gorilla costume and parading around the lake.
Ad blocker interference detected!
Wikia is a free-to-use site that makes money from advertising. We have a modified experience for viewers using ad blockers

Wikia is not accessible if you've made further modifications. Remove the custom ad blocker rule(s) and the page will load as expected.