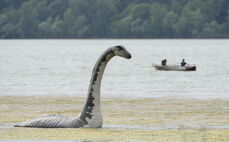 Kussie (クッシー Kusshī) is the name of a Japanese lake monster said to be living in Hokkaidō's Lake Kussharo. The naming convention was likely borrowed from that of Loch Ness's Nessie.
In 2009 British Cryptozoologist Karl Shuker made reference to a local legend which involves a lake monster slaying a young man during a midnight swim. 
Ad blocker interference detected!
Wikia is a free-to-use site that makes money from advertising. We have a modified experience for viewers using ad blockers

Wikia is not accessible if you've made further modifications. Remove the custom ad blocker rule(s) and the page will load as expected.