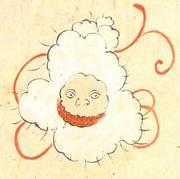 Haishaku is one of the 63 creepy germs written in Harikikigaki, a book of medical knowledge written by an unknown resident in Osaka.
Haishaku is a critter found in the upper lungs and has a nose that opens directly into its chest. People infected with Haishaku hate pleasant smells and foul smells, but are fond of strong, fishy smells. Other symptoms include extreme sadness and a craving for spicy food.
Gentle, shallow acupuncture is an effective treatment.
Ad blocker interference detected!
Wikia is a free-to-use site that makes money from advertising. We have a modified experience for viewers using ad blockers

Wikia is not accessible if you've made further modifications. Remove the custom ad blocker rule(s) and the page will load as expected.