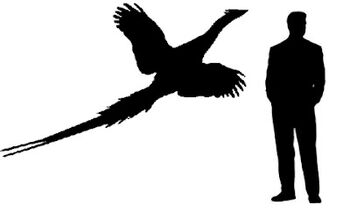 The
European Flying Snake
is a flying reptile of Southern Europe. It is said to be 3–6 feet long, be green, 
black, gray, or white and to sometimes have wings. This serpent is said to moves along the ground in a  straight line. It emits a peculiar vocalization. It can be found in the Alpes-Maritimes Department, France; near Sarajevo, Bosnia; Bulgaria.
Sightings
Edit
In 1930 or 1931, a green snake with wings frightened the mother of André Mellira in a forest near La Bollène-Vésubie, Alpes-Maritimes Department, France.
In Bulgaria in the summer of 1947, Hazel Göksu surprised a group of snakes 3–6 feet long on a footpath. With a peculiar cry, they flew into the air 6–9 feet above the ground toward a spring and vanished behind some trees.
Ad blocker interference detected!
Wikia is a free-to-use site that makes money from advertising. We have a modified experience for viewers using ad blockers

Wikia is not accessible if you've made further modifications. Remove the custom ad blocker rule(s) and the page will load as expected.