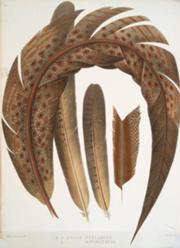 The Double-Banded Argus is a mystery bird, reported from Southeast Asia (Java in Indonesia or Tioman Island, Johor State, Malaysia.). Has two reddish-brown bands with white dots on its primary feather, instead of one band. Pheasant of uncertain origin, known from a single feather in the British Museum of Natural History.
Scientific name
Edit
Argusianus bipunctatus, proposed by T. W. Wood in 1871. Placed in the same genus as the Great argus of Indonesia.
Possible explanations
Edit
Surviving fossil pheasant of some type.
An aberrant form of the Great argus (Argusianus argus) which lives in peninsular Malaysia and Sumatra and Borneo in Indonesia.
Ad blocker interference detected!
Wikia is a free-to-use site that makes money from advertising. We have a modified experience for viewers using ad blockers

Wikia is not accessible if you've made further modifications. Remove the custom ad blocker rule(s) and the page will load as expected.