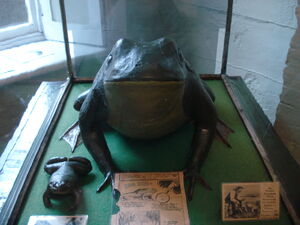 Coleman Frog is a giant amphibian (probably hoax) of Killarney Lake, New Brunswick, Canada. Like a huge bullfrog. Length, 27 inches. Weight, 42 pounds. Consumes baked beans, June bugs, whiskey, and buttermilk toddies. Said to have been used to tow canoes and race against tomcats. Said to have been dynamited from the lake in 1885. On display for many years at Fred B. Coleman's Barker House Hotel, the lone specimen was donated to the York-Sudbury Historical Museum, Fredericton, in 1959.
Possible explanations
Edit
Bullfrogs (Rana catesbeiana) only grow to 8 inches long. The record weight is 1 pound 4 ounces.
A fake, made to advertise a patent medicine for relieving sore throats. A 1988 report by the Canadian Conservation Institute refers to the artifact as consisting of canvas, wax, and paint. A letter refers to the exhibit as "an amusing example of a colossal fake and deception."
Ad blocker interference detected!
Wikia is a free-to-use site that makes money from advertising. We have a modified experience for viewers using ad blockers

Wikia is not accessible if you've made further modifications. Remove the custom ad blocker rule(s) and the page will load as expected.