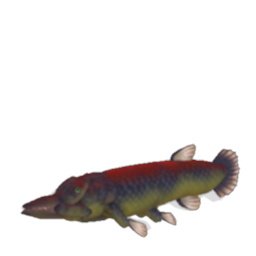 The Abyssal Rainbow Gar is one of Beebe's Abyssal Fishes of the North Atlantic Ocean. Length, 4 inches. Scarlet head. Long beak. Blue body. Yellow tail. Abyssal. Swims with a stiff, upright posture. Observed only once at 2,500 feet by William Beebe in a bathysphere off Bermuda in the early 1930s.
Ad blocker interference detected!
Wikia is a free-to-use site that makes money from advertising. We have a modified experience for viewers using ad blockers

Wikia is not accessible if you've made further modifications. Remove the custom ad blocker rule(s) and the page will load as expected.